Custom Metal Fabrication
Exhaust Cabinets & Booths
Fume Hoods
Machine Parts
Glove Boxes



Metal Fabrication Applications
Trade Show Booths, Decks, Fixtures
Medical Cylinders, Antechambers, Blower Boxes
Retail Fixtures, Desks, Counters, Displays
Industrial Racks, Hoods, Safety Guards



Metal Fabrication Prototype and Design
Racks
Carts
Platforms
Perimeter Guards
Assemblies



Waters Design and Manufacturing

326 Main Street
Fremont, NH 03044

Call 603.895.5255

Fax 603.895.5355
Contact Gary Waters

Email Waters Design & Mfg



Metal Fabrication Prototype and Design

Superior Level of Welding, Prototype and Design Services
At Waters Design & Manufacturing, LLC our team is dedicated to provide you with a superior level of welding and prototype and design services-where no metal fabrication product is too small or too complex for us to manufacture.
Several key reasons why customers from the medical to retail industries select Waters Design: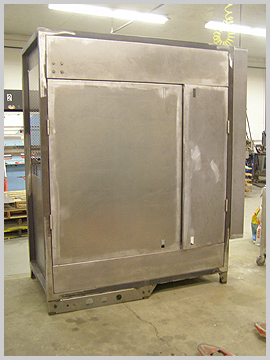 We're experts in utilizing the latest technologies that assist us in delivering the highest quality prototype and design services, employing the most cost-effective methods.


Our in-house staff can work with your existing designs and offer their expertise to improve the products' design, performance and reliability, and offer efficient solutions.


Our skilled welders will ensure an end product that has consistently achieved unsurpassed customer satisfaction due to quality assurance standards throughout the manufacturing process.


We work with a wide range of sheet
metals of various thickness tolerances to include: steel, stainless steel, aluminum, copper, and brass.
Waters Design has the capabilities to take a project from conception to completion for a variety of industries.
Our custom metal fabrication and welding facility can produce custom prototype and design products to include, but are not limited to the following:
Racks: From retailers to trade show companies-the staff at Waters Design has worked closely with customers to assist them in custom designing display racks, magazine racks, fixtures, etc. in a variety of sizes, styles and finish to serve their needs.


Carts: All phases of design take the end-user of the product into consideration. So regardless of your industry-we have the capability to manufacture the framework in a variety of styles depending on your needs to include, but are not limited to: bakery carts, tooling carts, retail carts, and point of care (POC) carts need for medical devices.


Platforms: Whether you require a stainless steel platform for a trade show booth or design assistance to create for a multi-level platform for a retail display, our engineers and skilled welders will assist you in configuring the right solution to best suit your needs.

| | |
| --- | --- |
| Perimeter Guards: Efficiency, durability and safety are critical elements that are taken into account during the prototype and design phase of manufacturing guards for industrial uses to ensure protection of both equipment and human resources. | Assemblies: Provide us with a rough sketch to a detail drawing of your custom metal fabricated product and we will produce custom assemblies that are efficient, dependable and cost-effective. |
| | |

Consider Waters Design & Manufacturing your one-stop resource for all of your custom welding and precision metal fabrication needs-where our complete in-house prototype and design services will provide you with the most competitive prices, rapid turn-around and highest quality in the industry.

Custom Metal Fabrication | Metal Fabrication Applications | Metal Fabrication Prototype and Design | Fabrication Site Map


Fremont, NH Website Design Development
Waters Design and Manufacturing is a leading specialist in custom metal fabrication, prototypes and design, providing custom metal products
such as exhaust cabinets and booths, fume hoods, machine parts, glove boxes, and stainless steel framework with finishes to custom specifications.
MA, Massachusetts, NH, New Hampshire, CT, Connecticut, RI, Rhode Island, VT, Vermont, ME, Maine, New England, USA