Custom Metal Fabrication
Exhaust Cabinets & Booths
Fume Hoods
Machine Parts
Glove Boxes



Metal Fabrication Applications
Trade Show Booths, Decks, Fixtures
Medical Cylinders, Antechambers, Blower Boxes
Retail Fixtures, Desks, Counters, Displays
Industrial Racks, Hoods, Safety Guards



Metal Fabrication Prototype and Design
Racks
Carts
Platforms
Perimeter Guards
Assemblies



Waters Design and Manufacturing

326 Main Street
Fremont, NH 03044

Call 603.895.5255

Fax 603.895.5355
Contact Gary Waters

Email Waters Design & Mfg



Metal Fabrication Applications
Trade Show Booths, Medical Cylinders, Retail Fixtures, Industrial Racks

With over 30 years of experience in the custom metal fabrication industry, the founders of Waters Design & Manufacturing LLC made the commitment to be recognized as a leading specialist in custom welding and metal fabrication, prototypes and design to industries to include trade show, medical, industrial, and retail.


Our continued success as a custom precision metal fabrication company is a direct result of: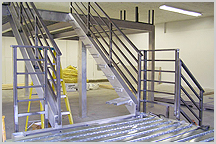 Intently listening to our customers' needs and translating their vision into a finished product


Providing an unsurpassed level of attention to detail throughout the fabrication process


Dedication to ensuring customer satisfaction
throughout the design and production process of each product we manufacture.
At Waters Design, our expertise lies in our ability to skillfully execute a custom fabricated product and stand ready to provide unparalleled service to all of our customers.

From rapid prototype, superior design and engineering, and research and development services, Waters Design has the in-house welding capabilities to manufacture a wide scope of custom metal fabricated products.


| | |
| --- | --- |
| Trade Shows: If you can envision it, we can build it. Waters Design has worked with leading companies to assist them with their trade show needs to help set them apart from their competition and allow for easy set up and break-down of equipment. Custom products include: trade show booths, decks, flooring, handrails, stairs, fixtures, and mezzanines. | Medical/Chemist labs: From stainless steel solvent cylinders to hold basic and exotic liquids to manufacturing a steel enclosure or mounting plate needed for high-powered pharmacy isolaters, Waters Design can create custom machined products that suit a variety of needs. Additional products include antechambers and blower boxes used in a variety of environments. |
| | |
| Industrial: When safety is your concern, we can assist in both the design and custom metal fabrication with products such as of guards, platforms, mezzanines and handrails to ensure your environment is an injury-free zone. We also build racks, hubs, hoods, bearing blocks, and metal carts. | Retail: Give your merchandise maximum exposure—we can work from your specifications or custom-design a solution for all your retail fixtures and displays. We can also fabricate desks and counters to allow for the most efficient use of space. |
| | |


At Waters Design, know that our experienced staff is highly qualified to assist you with all of your unique custom precision metal fabrication needs. We will provide personal attention to all of our customers. Whether you require us to manufacture a simple metal cover to designing and manufacturing a complex trade booth display, your satisfaction is our top priority.

Custom Metal Fabrication | Metal Fabrication Applications | Metal Fabrication Prototype and Design | Fabrication Site Map


Fremont, NH Website Design Development
Waters Design and Manufacturing is a leading specialist in custom metal fabrication, prototypes and design, providing custom metal products
such as exhaust cabinets and booths, fume hoods, machine parts, glove boxes, and stainless steel framework with finishes to custom specifications.
MA, Massachusetts, NH, New Hampshire, CT, Connecticut, RI, Rhode Island, VT, Vermont, ME, Maine, New England, USA