Custom Metal Fabrication
Exhaust Cabinets & Booths
Fume Hoods
Machine Parts
Glove Boxes



Metal Fabrication Applications
Trade Show Booths, Decks, Fixtures
Medical Cylinders, Antechambers, Blower Boxes
Retail Fixtures, Desks, Counters, Displays
Industrial Racks, Hoods, Safety Guards



Metal Fabrication Prototype and Design
Racks
Carts
Platforms
Perimeter Guards
Assemblies



Waters Design and Manufacturing

326 Main Street
Fremont, NH 03044

Call 603.895.5255

Fax 603.895.5355
Contact Gary Waters

Email Waters Design & Mfg



Custom Metal Fabrication
High Quality Custom Welding, Metal Fabrication and Design Services

When companies need innovative custom metal fabricated products, they rely upon Waters Design & Manufacturing, LLC, to provide them with unsurpassed custom welding and metal fabrication services from manufacturing stainless solution tanks to laser cutting machine parts.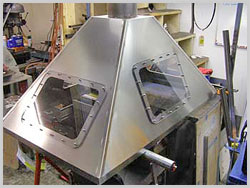 With over 30 years of experience in the custom metal fabrication industry, founder Gary Waters has been successfully servicing customers throughout the US, in particular, New England and New York, with their custom metal fabrication needs.

We have been hired by leading worldwide companies to manufacture customized glove box structures to food industry distributors who needed high quality custom racks and display cases—so regardless of the size of your company or project, we are readily able to assist you.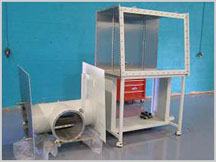 At Waters Design, we offer a complete range of welding and metal fabrication services to include:
Custom prototypes and design to final production


Complete systems and assembly


High level of quality assurance standards employed at each phase of production
And remember, many of our custom fabricated products are manufactured to suit the needs of a variety of industries. However, should you have a unique need that requires precision welding for a product not listed below, please give us a call. Chances are that if it can be made in metal, we can make it!

Our custom metal fabricated products include the following:


Counter tops
Assemblies
Boxes
Stairways
Carts
Tanks

Enclosures (exhaust fans, electrical units, etc)
Machine parts
Covers
Cabinets
Displays

Machines Bases
Fume hoods
Framework
Racks
Perimeter guards
Fixtures
Why Do Companies Choose Waters Design?
Over the years, Waters Design has built a solid reputation as a reliable custom precision sheet metal company. From tradeshow companies who hire us to build their display booths to chemical companies and medical manufacturers who hire us to build an antechamber, our customers know that our in-house capabilities for producing high quality metal fabrication will produce a superior product with unsurpassed attention to detail.


Our success is based on several key benefits that we provide our customers, which includes: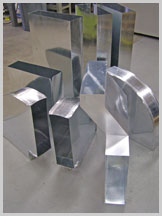 Custom welding services that includes rotary table welding, spot-welding, and tig and mig welding on a variety of materials such as aluminum, steel, stainless steel, to name a few.


Reduction in product lead-time due to our lean manufacturing processes


More efficient methods for your company to manage, schedule and coordinate your production cycle


Providing customers with superior custom metal fabrication services as a result of our consistently researching ways to improve our manufacturing technology.


Employing the highest quality standards in the industry to ensure compliance with the processes involved in our custom metal fabrication services.

Waters Design capabilities as a precision metal fabricator to manufacture new and existing designs as required by our customers represents the flexibility we have built into our custom metal fabrication processes. From start to finish, we will ensure that our customers receive a product that is superior in performance and durability.

We invite you to establish your standards of excellence when it comes to your company's custom metal fabrication needs and call us today to learn the full breadth of our capabilities.

Custom Metal Fabrication | Metal Fabrication Applications | Metal Fabrication Prototype and Design | Fabrication Site Map


Fremont, NH Website Design Development
Waters Design and Manufacturing is a leading specialist in custom metal fabrication, prototypes and design, providing custom metal products
such as exhaust cabinets and booths, fume hoods, machine parts, glove boxes, and stainless steel framework with finishes to custom specifications.
MA, Massachusetts, NH, New Hampshire, CT, Connecticut, RI, Rhode Island, VT, Vermont, ME, Maine, New England, USA