Custom Metal Fabrication
Exhaust Cabinets & Booths
Fume Hoods
Machine Parts
Glove Boxes



Metal Fabrication Applications
Trade Show Booths, Decks, Fixtures
Medical Cylinders, Antechambers, Blower Boxes
Retail Fixtures, Desks, Counters, Displays
Industrial Racks, Hoods, Safety Guards



Metal Fabrication Prototype and Design
Racks
Carts
Platforms
Perimeter Guards
Assemblies



Waters Design and Manufacturing

326 Main Street
Fremont, NH 03044

Call 603.895.5255

Fax 603.895.5355
Contact Gary Waters

Email Waters Design & Mfg



Waters Design and Manufacturing, Home
Leading Specialist in Custom Metal Fabrication, Prototypes and Design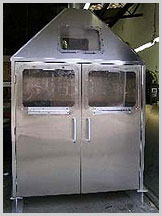 Waters Design and Manufacturing provides our clients with custom metal products such as exhaust cabinets & booths, fume hoods, machine parts, and glove boxes, and stainless steel framework with finishes to your specifications.

We have a complete fabrication facility which allows us to service the trade show arena as well as the medical equipment, retail, and industrial (OEM) industries.

We offer the Very Best In custom high quality precision metal fabrication and Sheet Metal Assemblies For medical glove boxes and antechambers, industrial racks, hoods, and safety guards, and retail fixtures, desks, and counter displays. At Waters Design and Manufacturing; it is all about QUALITY, EXPERIENCE (Thirty years) , & DESIGN.
Precision Sheet Metal Fabrication

Exhaust Cabinets & Booths
Fume Hoods
Trade Show booths, decks, fixtures
Industrial Sheet Metal Enclosures
Medical cylinders, antechambers, brackets, panels, assemblies, and blower boxes
Retail fixtures, desks, counters, displays
Industrial racks, hoods, platforms,handrails and mezzanines
Perimeter guards, safety guards, machine guards
Machine parts
Solvent systems parts
Weldments
Precision Sheet Metal Fabrication Capabilities
Complete systems and assembly
Design and Manufacturing
Drilling, forming, punching and tapping
Small machine parts
Complete support from Prototype to High Production Runs
Hot & Cold rolled steel
First-class systems and procedures
Plasma and laser cutting
Spot welding, stud welding, MIG and TIG welding
CNC Machining and CNC punch press
Product Design assistance
Sheet work to 24 ga. To ¼" plate steel, aluminum, stainless steel, copper, and hot and cold rolled steel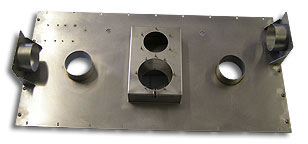 From a simple cover or bracket to a complex sheet metal enclosure, we take pride in being responsive and efficient in providing the finest quality custom precision sheet metal fabrication products for your needs. Our efficiency comes through in our ability to perform not only as a high-quality supplier of precision sheet metal fabrications, but as a high-quality JIT precision sheet metal fabrication supplier. From print to prototype and production, you can expect to get a quality product in a timely fashion.

Fast growing industries and companies require rapid responses from its sheet metal enclosure and sheet metal component supply base. Our informed and experienced personnel provide full estimating and "design for manufacturing" support service.



With more than 30 years in the Custom Precision Sheet Metal Fabrication arena, our quality management system and our constant repeat work for our customers speak for themselves. We are dedicated to providing you with the highest quality products at a very competitive price.

For production runs both large and small as well as prototypes in steel, stainless steel, aluminum, cold and hot rolled steel, and copper sheet at competitive prices, you cannot find a better source than Waters Design and Manufacturing.

Custom Metal Fabrication | Metal Fabrication Applications | Metal Fabrication Prototype and Design | Fabrication Site Map


Fremont, NH Website Design Development
Waters Design and Manufacturing is a leading specialist in custom metal fabrication, prototypes and design, providing custom metal products
such as exhaust cabinets and booths, fume hoods, machine parts, glove boxes, and stainless steel framework with finishes to custom specifications.
MA, Massachusetts, NH, New Hampshire, CT, Connecticut, RI, Rhode Island, VT, Vermont, ME, Maine, New England, USA